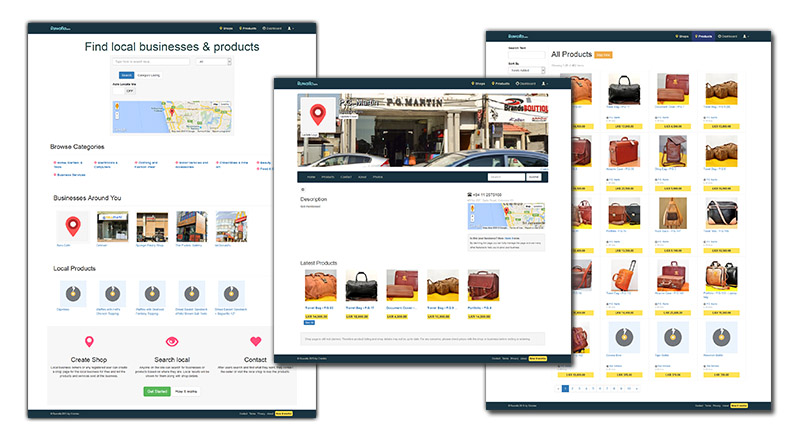 Background
I wanted to try out an application I had in mind so last year, I resigned from my job and worked on this web app based on Yii2 (www.ruwalla.com). The whole thing is an idea of mine and converted into a working application. I love working on new ideas and developing them into products. That's what motivates me. I also like to develop websites using WordPress, and I'm developing plugins and themes for WordPress. Briefly, I'm Dynamic, self-driven, result-oriented web developer. Loving innovative thoughts and implementing them to see results. Creative and crafting idea to products while handling the full stack.
Why Ruwalla?
Have you ever found in a place where you wish you had details about the local market so that you don't have to visit each and every store or business for the things you want to find? Well, basically Ruwalla is developed with that mind and sort that issue.
Ruwalla is a platform for local businesses to showcase their profile, products or services and reach local customers. Local customers come to Ruwalla to browse local products and services of the businesses around them or to find new business places such as electronic stores, restaurants. They can go through the business profiles and contact the business when they want to know more about the products and services. This helps customers to get information before they visit the local businesses. And also help businesses to keep customers updated and to reach new ones.
Today people search online before visiting local stores. Searches with local intent are more likely to lead to store visits and sales within a day. New Google research says that 50 percent of mobile users are most likely to visit after conducting a local search, while 34 percent of consumers on tablets or computers will go to a store. Some call this behavior as Research Online, Purchase Offline is a leading retail trend with 88% of consumers searching for a product online before buying in-store. Ruwalla is the platform that provides those requirements.
A local business can list down their shop place or business at Ruwalla. Then they can add products and their prices. It's more like a marketplace. However one of the differences with Ruwalla is that the service is targeting local areas and mobility.
Ruwalla is a website that is developed using Bootstrap so the UI is responsive to handle mobile devices. Also in Ruwalla, you don't ever specify your location by a name of a place but by using your actual location, if you are on Earth. So it uses Geo coordinates to track user and then local results are shown based on this position up to around 8 – 15 KM range.
For a customer or a consumer, Ruwalla offers two insights of the local market. Business listings and product listings. Shop listing is easily viewed by going to the Shop listing page. Following is a screenshot that was taken from the application. The other view is the product listing of these shops.
By Developing Ruwalla we want to make local shopping for customers a happy experience and to give local retailers a unique online shop front that will help retailers to interconnect with their local customers.
How does it work?
Create Shop
Local business owners or any registered user can create a shop page for a particular local business for free and list the products and services sold at the business.
Search local
Anyone on the site can search for businesses or products at these shop pages based on where they are. Local results will be shown for them along with shop details.
Contact
After users search and find what they want, they contact the seller by referring the contact details on the shop page or visit the local shop to buy the product.
THIS PRODUCT HAS BEEN DISCONTINUED